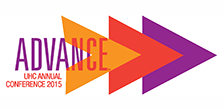 Annual Conference 2015
View rapid fire presentations

UHC Members
We are proud to have participating members from across the United States and around the world.
VIEW OUR MEMBER LIST
Member Benefits
We are committed to ensuring that our members take full advantage of all the benefits UHC offers. As a member of UHC, you will have access to powerful solutions, tools, and insights that help your organization achieve excellence in quality, safety, cost-effectiveness, and patient care. Additionally, you will have the opportunity to network and collaborate with peers across the nation to further your common goal of delivering world-class patient care in the most effective and efficient manner.
UHC Intelligence™
Turn knowledge into power with a dynamic suite of tools and services that empowers health care organizations to achieve excellence in quality, safety, cost-effectiveness and patient care.
This enhanced solutions platform fuels virtual networking for exchanging, transferring and leveraging knowledge. And it's just the beginning. If you're not taking advantage of the full power of UHC, now is the time to do so.
Networking
Councils
Our specialty councils are composed of representatives from our member institutions (and, in some cases, general members). Councils meet regularly to exchange information, develop and apply ideas to improve efficiency within their institutions, arrange preferred purchasing agreements for products and services, and develop innovative strategies for handling market changes as well as managing value and change.
Listservers
Our listservers provide a secure e-mail communication channel that is widely used by our member groups to network and share information. We encourage members to participate in appropriate listserver discussions to get advice, information, and support from fellow UHC members.
Learn more about Listservers