Careers at UHC
UHC is an award-winning place to work. Learn more: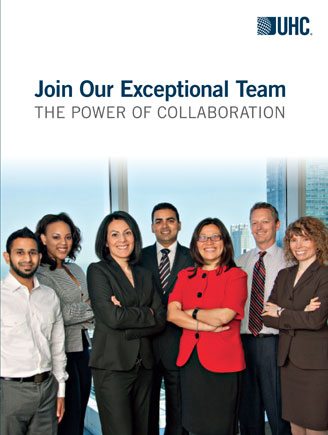 Welcome to UHC's online career center. UHC and its talented employees help the nation's academic medical centers improve clinical, operational, and financial performance by providing programs, products, and services that spark and sustain long-term improvement. UHC employees' dedication to the important mission of these prestigious member organizations is at the heart of UHC.
As part of our commitment to build on our strengths to transform the future, we moved our headquarters to the vibrant Chicago Loop area in 2011. Learn more about UHC: A New View.
Over the years, UHC has consistently received high satisfaction ratings from its staff and members. UHC prides itself on being an industry leader in health care and attracts professionals from many disciplines. UHC is an equal opportunity employer that believes in hiring the most qualified applicants to serve members. If you have a passion to take your health care career to the next level, UHC may be for you!
About UHC

UHC is an alliance of academic medical centers and their affiliated hospitals, representing the nation's leading nonprofit academic medical centers. UHC staff members are located mainly in the Chicago Loop, with a small number of staff situated off-site in 14 other states. Learn more.
A Company That Cares



In 2013, UHC was named to the Honor Roll by Center for Companies or the 10th consecutive year, making UHC the longest-standing honoree in the organization's history. Honorees are singled out for their commitment to elevating the quality of the work environment as well as the quality of life for people in the broader community. In addition, UHC has received awards for community service and "green" initiatives, including achievement of LEED Silver certification awarded by the U.S. Green Buildings Council for excellence in the environmentally responsible design and construction of our office space at 155 N. Wacker Drive. A recent survey revealed that UHC employees view their work as benefiting the global community.
Professional Expertise

UHC offers career opportunities in core business areas such as supply chain, comparative data and informatics, performance improvement, operational and clinical databases, revenue cycle, faculty practice, and more. UHC also offers opportunities in administrative areas, including technology services, finance, human resources, and marketing. Many UHC employees have clinical credentials such as MD, RN, and PharmD, while others have PhDs and advanced degrees in other disciplines. UHC encourages lifelong learning and provides a variety of developmental resources, including tuition reimbursement, in-house and off-site classroom training, and self-paced online courses.
Culture
SERVICE EXCELLENCE INNOVATION LEADERSHIP UNITY

These 5 values set the tone for UHC's employee-focused culture. UHC provides employees with a stimulating and dynamic environment in which to perform meaningful work that improves health care nationwide. UHC also rewards good performance. When UHC succeeds, all employees benefit through an all-staff incentive plan, which awards cash bonuses to all levels from administrative staff through senior leadership. Standing employee teams include the Community Service Committee, Social Committee, and Customer Service Committee.
Benefits

UHC offers a comprehensive benefits package that includes 401k; medical (HMO and PPO), dental, and vision insurance; flexible spending accounts; retirement planning assistance; employee assistance programs; employee discounts; a wellness program; and more. In addition, UHC offers a variety of flexible work arrangements for qualifying staff and positions, including flexible start/stop times, compressed workweek, and part-time work from home. UHC's benefits offerings are among the best in the industry.
For More Information
Kris Velasquez - senior director, Human Resources
Lori Richards - HR generalist - employee relations, Human Resources

An Invitation from our CEO