Clinical Data Base/Resource Manager
Participants Access Now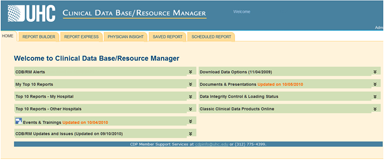 The Clinical Data Base/Resource Manager (CDB/RM) provides an expanded set of comparative data and analytic tools to support the clinical operations of member institutions. Opportunities for improvement are identified by combining patient encounter level and line-item transactional detail to yield information on patient outcomes and high-impact resource utilization.
Users can:
Access two individual interfaces to create complex data queries (report BUILDER) or quickly access template reports (report EXPRESS) for high-level overviews of performance
Measure variation within and across hospitals
Identify trends and practice patterns
Standardize resource use
Monitor the appropriate use of selected resources by clinical discipline
View patient level data for additional insight
Design targeted interventions to improve patient outcomes
Benefits
Transparent comparisons from over 200 academic medical centers and their affiliate hospitals located across the country
Risk-adjusted, secure data at the patient and physician levels
Data on patient outcomes, including mortality rates, length of stay, complication rates, readmission rates, intensive care use, and cost by service area
Management-level reports that alert senior leaders to trends, areas for improvement and opportunity, areas of success, and detailed insights not easily identified without the unique perspective that UHC provides
Ability to download patient-and-transaction level information directly back into users' servers for incorporation into existing internal systems and reports
Reports that focus on outpatient activity
Tools
UHC Clinical Data Base/Resource Manager online tool
Data for flexible, self-generated analytics and reports
Report EXPRESS area with template and canned reports
Physician Insight to understand physician activity and variation
Reports
Executive Management Reports
Improve performance and reduce cost, through the Quality and Spend Scorecard or enhance patient satisfaction, increase scores and maximize medicare reimbursement revenue with the Value-Based Purchasing Calculator.
Management Reports
Participating hospitals can benchmark openly with other hospitals by reviewing five UHC-generated quarterly management reports
Networking and Collaboration Opportunities
Connect with other participants via the (CDB/RM) listserver
Engage with experts during conference calls and user group meetings
Learn best practices during Web conferences and facilitated networking events
Access the support help line
Comprehensive learning opportunities through regularly offered training
Who Should Use This Tool
Clinical and operational department leaders
Functional department leaders
Performance improvement leaders

For More Information
Steve Meurer, PhD - senior vice president, Comparative Data & Informatics
Gary Schumacher - senior director, CDI member services & business development, Comparative Data & Informatics





©2015 UHC. All rights reserved.
UHC refers to University HealthSystem Consortium. For a complete explanation of UHC's rights and disclaimers related to the information and documents on this site, click here.
UHC ®, 155 North Wacker Drive, Chicago, Illinois, 60606, (312) 775-4100.